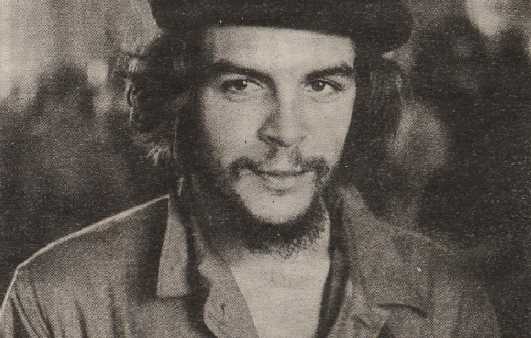 Ernesto "Che" Guevara de la Serna Lynch
---
A Concise Biography of Che Guevara

(Part I

· 1928 - 1955)

Ernesto "Che" Guevara de la Serna Lynch was born on May 14, 1928 in Rosario, Argentina. An Argentine blueblood, Che was the son of Celia de la Serna, member of one of Argentina's high society families. His mother's lineage was of undiluted, pure Spanish blood, and one of her ancestors was a Spanish viceroy of colonial South America for the crown of Spain. His father, Ernesto Guevara Lynch was the descendant of both Spanish and Irish nobility, and his parents Roberto Guevara Castro and Ana Lynch had been born in California, where their families had migrated from Argentina during the California Gold Rush.

An asthmatic child, family photographs of the child still show him as a healthy, dark-haired child with pale white skin. The asthma was to be a constant companion of Che throughout his life.

At age 14, according to Che biographer Jon Lee Anderson, the teenager Che had his first sexual experience. Anderson writes that:
"For sex, boys of Ernesto's social milieu either visited brothels or looked for conquest among girls of the lower class... for many, the first sexual experience was with the family "mucama", or servant girl, usually an Indian or poor mestiza from one of Argentina's Northern provinces. It was Calica Ferrer who had provided Ernesto with his first introduction to sex... in a liaison with his family mucama, a woman called "La Negra" Cabrera."
In 1947, Guevara started medical school at the University of Buenos Aires. There he developed a great love for chess and for rugby, which he played well despite of his asthma. It was also at school that he probably started discovering Socialism and Marxist theory and where he began developing a deep hatred toward the United States. He also discovered a liking towards traveling and hitchhiking and in 1950 he traveled in a motorized bike through most of Argentina's backward northern provinces.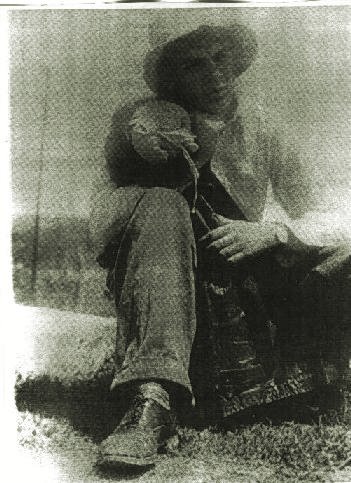 Che, as a University student
In 1952, together with his friend Alberto Granado, he took a wandering trip through South America, begging, drinking and borrowing their way through Argentina's northern neighbors.
Peru, with its largely pure Indian population had a profound effect on Guevara, and he refers to the Andean Indians as the "beaten race" in his diary. Since Argentina's own Indians had long been destroyed and overwhelmed by the millions of white immigrants from Spain, Germany and Italy which populated his homeland, it was in Peru where Che first met an oppressed people, and he notes in his writing that although he and Granado were usually broke, they were able to get by on "favors and concessions" based on their white skin.
South America's Caribbean coast provided him with his first exposure to black people, and oddly enough, the man who was later to fight alongside Africans in the Congo made some harsh observations, deeply fragmented with stereotypical Argentinean white racism:
"The blacks, those magnificent examples of the African race who have conserved their racial purity by a lack of affinity with washing, have seen their patch invaded by a different kind of slave: The Portugese.... the black is indolent and fanciful, he spends his money on frivolity and drink; the European comes from a tradition of working and saving which follows him to this corner of America and drives him to get ahead."
In 1953, Guevara passed his final exams and finally received the title of doctor. Rather than staying in a lucrative practice in Argentina, where his family's social background was sure to have created a high position for the young doctor, he headed north and once again left Argentina.
Traveling through various Latin American countries, he discovers the fabulous corruption of the Central American nations. He ends up in Guatemala, in the middle of the leftist regime of Army colonel Jacobo Arbenz where he meets Hilda Gadea, a Peruvian woman of Indian blood who was the exiled leader of one Peru's leftist youth movements. She later became his first wife and bore him a daughter (who committed suicide in the 1990's).
Also in Guatemala he meets his first Cubans, also exiles, but veterans of armed resistance against Cuba's dictator, Fulgencio Batista. The Cubans are Antonio Lopez, Mario Dalmau, Dario Lopez and Armando Arencibia. Lopez was to later introduce Guevara to Fidel Castro in Mexico. It was Antonio Lopez who nicknamed Guevara "Che." The word is an Argentinean dialectic word (derived from the Indian language Guarani) which means "Hey you" and is used by Argentineans to commence many a sentence. It was also Lopez who first introduced the history of the Cuban struggle to Guevara.
Four days after Che's 26th birthday, an armed revolution against the Arbenz regime, backed by the United States, began with aerial attacks in Guatemala City and Guevara's first taste of war leaves him in his own words "licking his lips" and "having as much fun as a monkey." With Arbenz deposed, Che was persona non-grata to the new government and he takes refuge in the Argentine embassy. In mid-September, having left the embassy, he crosses the border into Mexico and heads for the capital city.
Mexico City was also the place where Fidel Castro, in a Cuban jail after the Moncada Attack in Cuba, had directed his followers to congregate and await his release. It is there that Che again meets Antonio Lopez. It is also from Mexico that he writes his mother that he "intends to join the Communist Party." Another letter, this time to his father on May 27, 1955, declares that he "might go to Cuba."
On June 24, Raul Castro, Fidel's younger brother and an outspoken Communist arrives in Mexico and meets Che. The younger of the Castro brothers also meets with Nikolai Leonov, a 27-year-old Soviet Embassy official in perhaps the earliest meeting of the Castro clan with a Soviet official. Raul introduces Che to the Soviet official and Guevara goes to the Embassy on several occasions to pick up books.
Later that summer, Guevara and Fidel Castro meet and immediately hit of off. Fidel invites Guevara to join the revolutionary movement and from that moment on, Che seals his fate alongside that of the Cuban revolutionaries.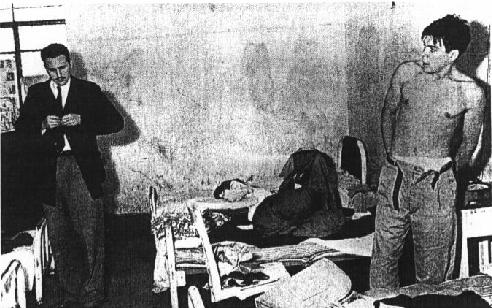 The First known photo of Che and Fidel together
---
---


This page has been visited
times.